Hmar Students' Association Bangalore Branch hi 2002 kum tawptienga members thanemngai tak tak mi 13 vela lo intan ani a, buoina um thak lovin Pathien zarin member's hai hung pung peiin tuchen hin members 250 vel an tling tah a nih. Kum tin student thar lawmluotna program Fresher's Meet hmang zie ani hlaka, chubakah Sports le Sikpuiruoi hai khawm huoihawt zie ani hlak.
OFFICE BEARERS (2018-19)
President: Tv. Siema Zate (953-571-1460)
Vice-President: Pu Sanga Haulai (953-835-5650)
Secretary: Tv. Lalzarlien Sanate (809-564-6939)
Assistant Secretary: Tv. Joshua F Tuollai (743-946-0729)
Finance Secretary: Nk. Christine Marie Pakhuongte
Treasurer: Nk. Irene Sangpui
DEPARTMENTAL SECRETARIES
Information and Publicity Secy: Tv. Solomon Malsawmsang (702-637-2442)
Games and Sports Secretary: Tv. Calvin Ramhmangai Vankal
Education Secretary: Nk. Zolienmawi Songhil
COMMITEE MEMBERS
Nk. Linda Khawbung
Tv. Hlima Songhil
Tv. Thomas Kungate
Tv. Livingstone Chalrothang
Nk. Baby Ngurdingpui (Miss Fresher)
Tv. Lalramhmangai (Mr. Fresher)
ADVISERS
Pu HT Sangliana
Pi Dari Hmar
Tv. Randolph Amo
Pi Emily Pudaite Nassey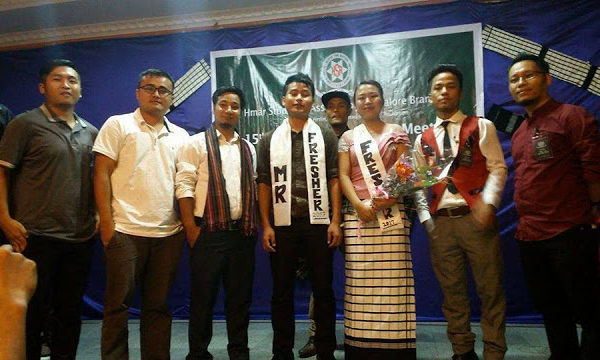 Bangalore, August, 13, 2017: HSA Bangalore Branch chun zanikhan 15th Freshers' Social Meet, 2017 chu Lakshmi Party Hall, Kammanahalli, Bengaluru hmuna an hmang. Hi huna hin Khuollien in Rev. Dr....
Bangalore, October 28, 2016: HSA Bangalore Branch chun Annual Sports hung tlung ding 12th November, 2016 hin huoihawt tum in an singsa meka, chun 3rd December,2016 hin Sikpui Ruoi ropuitakin...