Hmar Students Association, Pune Branch hi kum 2002 khan indin a nih. Hmar tawng hmang tlawmte umkhawm mi 30 vel in Hmar hai inenkawl le hmatieng peia inthuoi dan ding thlir zing pumin lo inngir a nih. Mr Joshua Thiek chu Hmar Students Association, Pune Branch President hmasatak dinga ruot a nih. Kum 2005 khan HSA General Headquarters chun Branch puitlinga alo hangkai a nih.
OFFICE BEARERS (2017-18)
President: Pu. Immanuel Hrangchal (7276147529)
Vice -President: Pu. Faith L. Hranngul (8730994643)
Secretary: Tv. Peter Lalhrietsang Infimate (9970541153)
Asst. Secretary: Tv. Bonet H. Pangamte (8087941991)
Finance Secretary: Nk. Clearance Mawite (8454963512)
Treasurer: Nk. Ramchanmawi (8237299050)
DEPARTMENTAL SECRETARIES
Games and Sports Secretary: Tv. H.D. Ramtharlawm (9665188639)
Education Secretary: Tv. Zairemthang Songate (8411016424)
Art and Cultural Secretary: Tv. Lalthaful Songate (8983192413)
Info. and Public Relation: Tv. H.M. Johnson (8729905820)
COMMITTEE MEMBERS
Pu. Samuel Songate (9503284732)
Dr. James Ruolngul (8149580957)
Pu. Caleb Hrangchal (9049999437)
Tv. Donal Ngaihte (8149989433)
ADVISERS
Pu. Johny Tusing (9615281816)
Pu. S. Paulianlal (9507756877)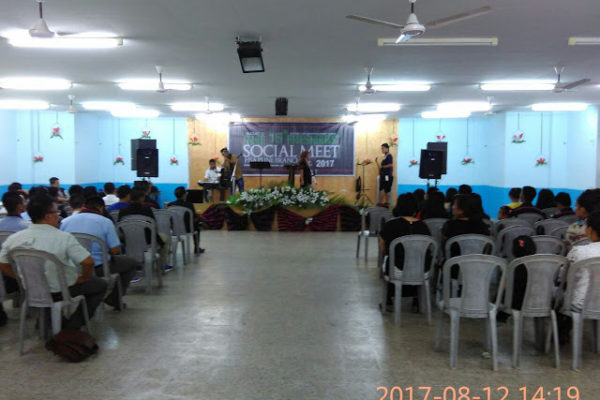 Pune, August, 13, 2017: Hmar Students' Association (HSA) Pune Branch chun zanikhan Freshers' Meet hlawtling takin an hmang. Pune Branch chun CMS Hall, UBS hmunah 15th Freshers' Social Meet, 2017...