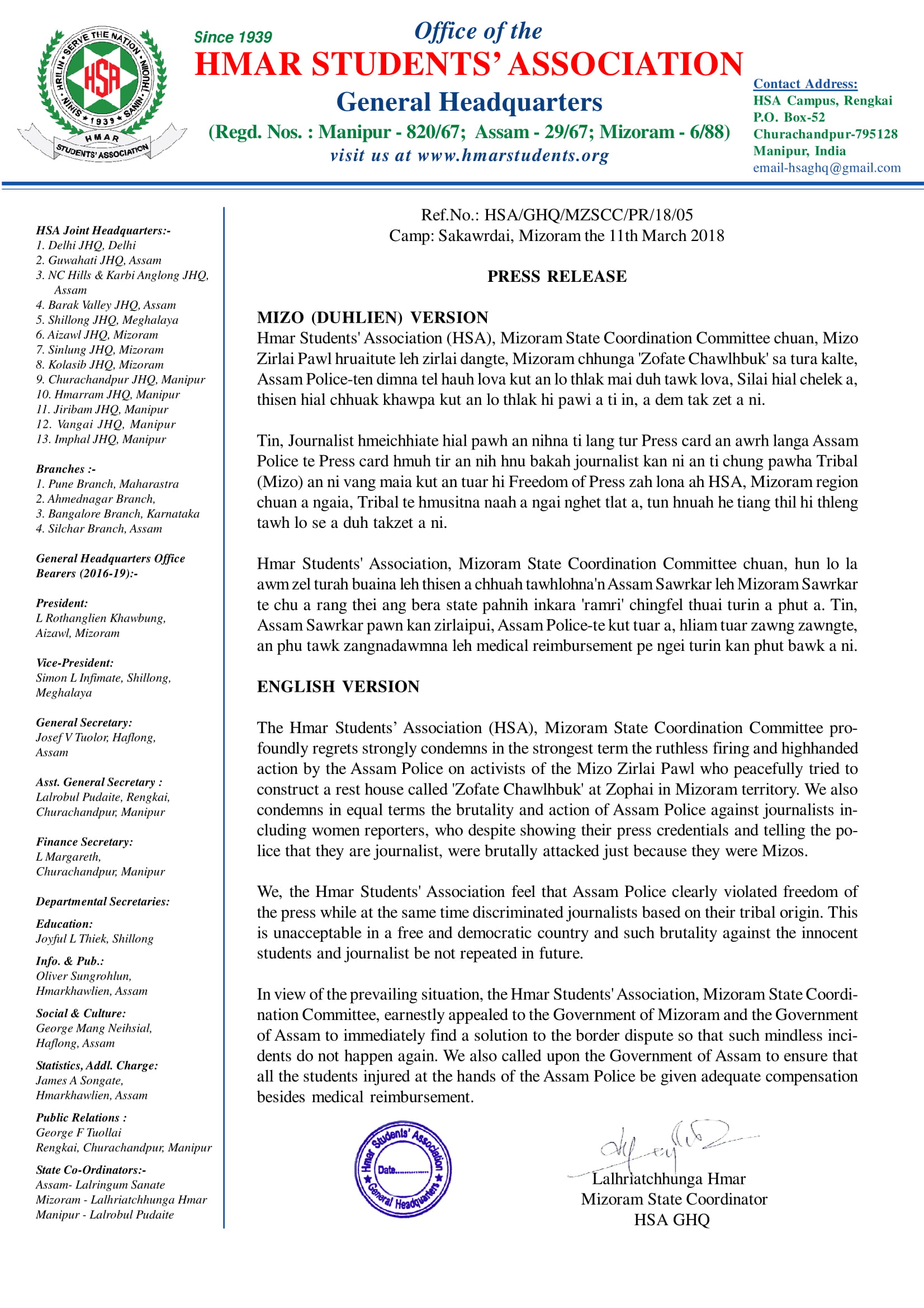 HMAR STUDENTS' ASSOCIATION
HSA/GHQ/MZSCC/PR/18/05
Camp: Sakawrdai, Mizoram the 11th March 2018
PRESS RELEASE
MIZO (LUSEI) VERSION
Hmar Students' Association (HSA), Mizoram State Coordination Committee chuan, Mizo Zirlai Pawl hruaitute leh zirlai dangte, Mizoram chhunga 'Zofate Chawlhbuk' sa tura kalte, Assam Police-ten dimna tel hauh lova kut an lo thlak mai duh tawk lova, Silai hial chelek a, thisen hial chhuak khawpa kut an lo thlak hi pawi a ti in, a dem tak zet a ni.
Tin, Journalist hmeichhiate hial pawh an nihna ti lang tur Press card an awrh langa Assam Police te Press card hmuh tir an nih hnu bakah journalist kan ni an ti chung pawha Tribal (Mizo) an ni vang maia kut an tuar hi Freedom of Press zah lona ah HSA, Mizoram region chuan a ngaia, Tribal te hmusitna naah a ngai nghet tlat a, tun hnuah he tiang thil hi thleng tawh lo se a duh takzet a ni.
Hmar Students' Association, Mizoram State Coordination Committee chuan, hun lo la awm zel turah buaina leh thisen a chhuah tawhlohna'n Assam Sawrkar leh Mizoram Sawrkar te chu a rang thei ang bera state pahnih inkara 'ramri' chingfel thuai turin a phut a. Tin, Assam Sawrkar pawn kan zirlaipui, Assam Police-te kut tuar a, hliam tuar zawng zawngte, an phu tawk zangnadawmna leh medical reimbursement pe ngei turin kan phut bawk a ni.
ENGLISH VERSION
The Hmar Students' Association (HSA), Mizoram State Coordination Committee profoundly regrets and strongly condemns in the strongest term the ruthless firing and highhanded action by the Assam Police on activists of the Mizo Zirlai Pawl who peacefully tried to construct a rest house called 'Zofate Chawlhbuk' at Zophai in Mizoram territory. We also condemn in equal terms the brutality and action of Assam Police against journalists including women reporters, who despite showing their press credentials and telling the police that they are journalist, were brutally attacked just because they were Mizos.
We, the Hmar Students' Association feel that Assam Police clearly violated freedom of the press while at the same time discriminated journalists based on their tribal origin. This is unacceptable in a free and democratic country and such brutality against the innocent students and journalist be not repeated in future.
In view of the prevailing situation, the Hmar Students' Association, Mizoram State Coordination Committee, earnestly appealed to the Government of Mizoram and the Government of Assam to immediately find a solution to the border dispute so that such mindless incidents do not happen again. We also called upon the Government of Assam to ensure that all the students injured at the hands of the Assam Police be given adequate compensation besides medical reimbursement.
Sd/-
Lalhriatchhunga Hmar
Mizoram State Coordinator
HSA GHQ